Terminal Operations Department is proud to announce that Paria's terminal and port operations has received ISO 9001:2015 certification on Monday 24th July 2023. ISO (International Organization for Standardization) is the world's largest developer and publisher of international standards. Llyod's Register Quality Assurance (LRQA) has certified that we have successfully implemented a Quality Management System designed to support PARIA in meeting and exceeding customers' requirements for its products and services.
On 01st December 2021, Terminal Operations started its formal journey towards ISO certification with Mr. Mushtaq Mohammed (General Manager) as Project Sponsor, Mr. Collin Piper (Terminal Operations Manager) as Project Manager and Mr. Stalin Sheppard (Quality Coordinator) as Project Team Lead. The Terminal Operations Team Leads, Terminal Operations Team Supervisors (Onshore & Offshore), Terminal Operations Executive Assistant and representatives of supporting departments formed the core base of the team. This project was successfully completed in nineteen (19) months with 5 months ahead of the scheduled time.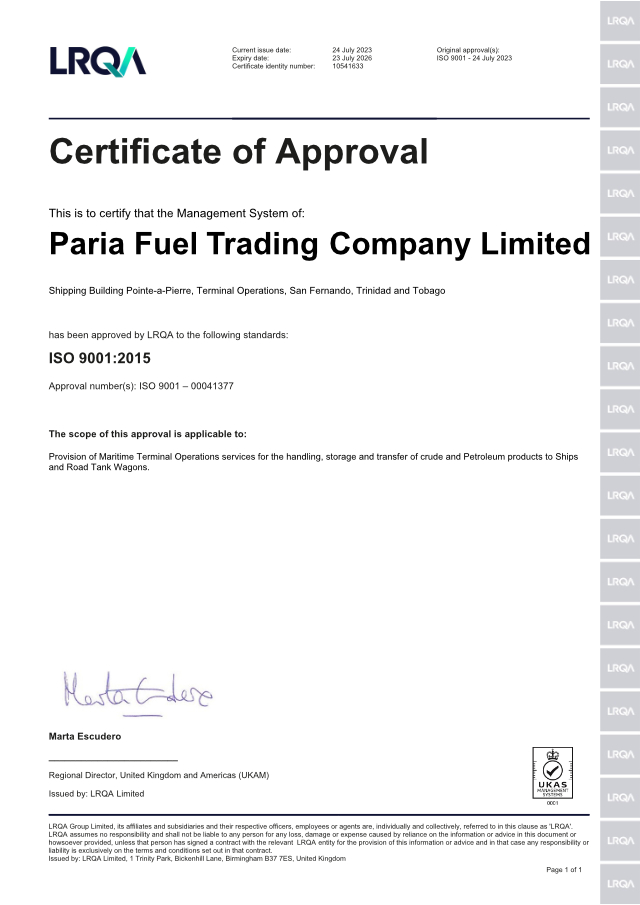 The ISO 9001:2015 is a globally recognized international standard that is designed to help organizations meet the needs of their customers and stakeholders while improving efficiency and streamlining processes. This standard provides a framework for developing and standardizing policies and procedures to ensure that quality service is consistently delivered and meets applicable statutory and regulatory requirements.
The certification process involved the conduct of audits by an independent registrar, LRQA who assesses the organization's management practices ensuring that it consistently meets the needs of stakeholders and there is evidence of continuous improvement in compliance with ISO 9001:2015 standard. Achieving this prestigious certification speaks to the organization's core values of integrity, professionalism, and accountability and its commitment to ongoing improvement and risk reduction.
The benefits of ISO 9001:2015 certification are numerous, including increased customer and stakeholder satisfaction, improved efficiency and productivity, enhanced company reputation, a culture of continuous improvement, and compliance with statutory and regulatory requirements. The true beneficiaries of ISO certification are the people (customers, employees and other key stakeholders) and the environment of the organization's community.
Terminal ISO 9001:2015 certification audit involved all aspects of operations (Bond, Berths, Tank farms) and relevant supporting departments within Paria.
This ISO certification for Terminal Operations has impacted and will continue to involve every department as it aims to improve overall productivity and leadership skills of all employees as we strive towards excellence.